Community Mental Health in Uttarakhand
Burans works with disadvantaged communities in Uttarakhand, North India, to promote mental health and wellbeing by building on their strengths and resources
We support care in two districts of Uttarakhand
The crowded, colourful and chaotic informal urban areas of Dehradun
The remote, rural upper Yamuna valley in Naugaon block, Uttarkashi district
People with Mental Health Problems
Adolescents participated in Nae Disha program
Together they set up a Learning study group with others who had left school early, and have now completed their 10th class exams.
I now feel brave enough to tell my parents my opinion and to go to the market alone.
– Nilofer
Over several months they completed our group resilience intervention (Nae Disha) for young men with mental health challenges
Together they decided to start a new habit by playing cricket on Sundays rather than go out consuming unhealthy substances.
Earlier I used to get into fights and arguments a lot but now we know how to listen and patiently talk to someone.
– Five Students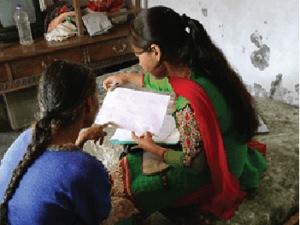 At first Shobha said leading a group of other carers of family members with mental health problems would be too hard. She gave it a go and found it was lots of fun.
She decided to learn to drive a scooter next, and then arranged contractors to fix the house.
I use to always ask my husband to fix things in the house, but after leading the Nae Umeed group I got more confident in all areas of life.
– Shobha
Strengthening Community And Public Health Systems
We train community volunteers as well as health providers, informal and traditional healers to support people with mental health problems with psychosocial support groups, home visits, and community-based rehabilitation.
Co-Design With Communities
We work with people "on the edges" to co-design mental health responses that build on their strengths
Burans is a center for excellence in participatory and equity research for global mental health, engaging with community priorities